Engage in specialized CEETL faculty developing programming that addresses foundational and specialized teaching and learning theory and practices, with a focus on social justice and inclusion in teaching and learning.  Build community with your faculty peers. 
Announcements

Wrap Up Two by 2/22/22, Earn Up to $6K
Enroll and/or finish CEETL offerings by February 22, 2022! 
Complete all certificate requirements and earn $250 bonus per certificate
(up to $500 total in bonus).
Earn a stipend for each completed requirement.
Receive a Certificate of Completion and  Letter of Recognition.
Join a Spring 2022 faculty appreciation ceremony with campus leadership!

Complete Course Requirements, Receive Stipend — it's that Easy!
Engage in the course for the required time commitment.
Complete only the required assignments. 
Fill out the Stipend Application.  
Note: No need to engage in all course materials. Only engage in the course material most interesting to you and the few required assignments! 
Courses and Programs

PIE Certificates
We have organized our faculty development curriculum around three main components, which we refer to as Slices of Pedagogies for Inclusive Excellence (PIE). All of our certificates consist of our Slices of PIE. Once completed, faculty will receive a certificate on a theme related to PIE.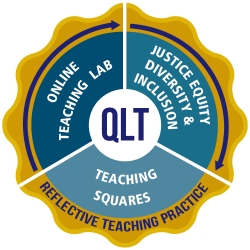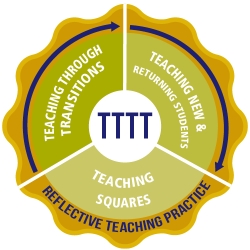 Transformative Teaching through Transitions Certificate
Teaching Square $500
Claim your bonus reward for completing all 3 courses by 2/22/22: $250

Courses
We offer a variety of online courses, addressing equitable and inclusive online course design. These courses are typically asynchronous and self-paced.  

Micro-Courses
Our micro-courses are short courses focused on one topic. The format is primarily asynchronous, with occasional optional Zoom sessions, and they are designed to be completed in about three hours or less.

Communities
We facilitate and foster reflective teaching and learning communities throughout the academic year. These offer multidisciplinary opportunities for faculty to engage in theoretical discussions and reflect on teaching practices within a caring community.
Communities Courses, Registration, Stipend and Deadlines

| Communities Course Title | Registration Status | Stipend Availability | Deadlines |
| --- | --- | --- | --- |
| Open Classrooms | Closed | No | N/A |
| Teaching & Learning Communities | Closed | No | N/A |
| | Registration Open | Yes: $220-$500 | 4/8/2022 |
Please note: You only need to complete one Teaching Square, which is applicable to both QLT/TTTT certificates. If you register for a Spring 2022 Teaching Square, that is also applicable to both certificates. Fill out the Certificate Application by 2/22/22 to demonstrate Spring 2022 Teaching Square enrollment. 
Notes:
All stipends for CEETL course completions by eligible participants are processed through payroll and are subject to tax, so the final amount and timing for stipend payments may vary according to individual tax rates and employment status with the university. To monitor incoming payments, we recommend you turn on your bank notifications to get alerts on your accounts. All members of the SF State teaching community are welcome to engage in and complete CEETL faculty development courses for a certificate, but due to CSU policy the following appointments will not be eligible to receive a stipend: MPPs, Staff, FERP faculty, and individuals not actively employed at SF State.