Solidarity Statement in Support of the Asian and Asian American Pacific Islander Communities
The Center for Equity and Excellence in Teaching and Learning (CEETL) condemns the anti-Asian rhetoric and violence toward Asian individuals that has dramatically increased since the start of the COVID-19 pandemic, when the former president of the United States unjustly blamed this racial group for the virus and emboldened these aggressors.
Together, in unity, we are devastated and heartbroken at the racist, deadly violence that transpired in the Atlanta area on March 16, 2021. On that day, a Tuesday, a white man targeted Asian businesses where he shot and killed eight people, critically injuring a ninth person. Six of the eight people killed were women of Asian descent.  
We acknowledge that the Atlanta area attack did not happen in a vacuum, but was a racist hate crime that specifically targeted Asian and Asian American women. This violence is rooted in images and ideas about Asian and Asian American women.
As educators, as colleagues, and as a community, CEETL stands in solidarity with our Asian and AAPI communities. 
We support our colleagues in the Department of Asian American Studies, who on March 17, 2021, a day after the Atlanta area attack, received an email expressing hatred toward Asian Americans and blamed them for their own victimization.
We support members of the Asian and AAPI communities who are scared of speaking up, who face language barriers, or are struggling to find their voice out of fear of societal retribution or worry of increasing anti-Asian hate.
We support our Asian and AAPI faculty, staff, and students who regularly experience microaggressions, feel "invisible" and "unseen," and whose strengths, contributions and potential are not recognized due to damaging stereotypes fueled by white supremacist interests.
We support the Asian and AAPI community members who provide the critical skills, services and resources across all industries, including education, healthcare, business, technology and hospitality, so that the larger community can prosper and thrive.
We support the Asian and AAPI communities against the dangerous anti-Asian rhetoric, hate crimes and violence that have generated widespread fear for their own safety, acknowledging that when a country is unable to ensure the safety of one BIPOC community, no community is safe.
As Educators, We Need to Teach About How...
As educators, we need to teach about the structural intersectional racism that victimizes Asian and Asian American women in devastating ways. 
When the then-spokesman of the Cherokee County sheriff's office dismissed his fellow white man's actions by saying "he had a bad day" and attributed them to a "sexual addiction," we bore witness to the ways that fetishization, hypersexualization, sexism and racism are used to reinforce — and justify — the dehumanization of Asian women. These statements perpetuate a deeply rooted white supremacist practice that invokes damaging stereotypes to dehumanize and disempower Asian women, just as U.S. pop culture uses graphic images and messaging to sexualize and fetishize Asian women.
As educators, we need to teach about how generations of systemic racism harm and victimize not only one racial group, but society as a whole.
Anti-Asian hate and violence is deeply enmeshed in the history of the United States, where it has been carried out on a systemic level for generations through policy and practice. Anti-Asian legislation includes the passing of the the 1875 Page Act, which barred East Asian women from U.S. entry to ostensibly eliminate white men's sexual temptation, and the 1882 Exclusion Act, which prohibited immigration of Chinese laborers and perpetuated anti-Chinese racism, leading to the creation of San Francisco's Chinatown.
As educators, we need to teach about how stereotypes are used to essentialize and diminish Asian identities to dismiss their experiences and contributions.
In U.S. history, we must realize the damage that comes from failing to acknowledge and take seriously the racism Asian and AAPI communities experience. The "model minority myth" has long been used to create a racial wedge between Asians and other BIPOC communities in order to downplay anti-Asian racism by promoting claims of white privilege, which diminishes the real hardships some members of the Asian and AAPI communities face, including unemployment, derailing mental health, and poverty. The resulting Asian American experience is one that is complicated due to the diverse community of intersectionalities and identities, but is falsely labeled by the majority of America as a monolithic community. Thus, Asians are "perpetual foreigners" who become invisible and are easily subject to vilification, fetishization, and exclusion.
Stop AAPI Hate National Report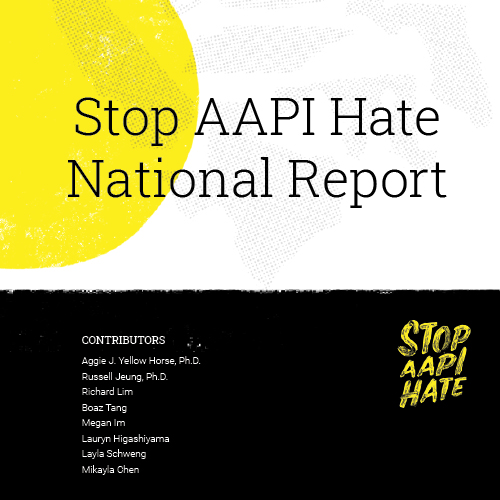 A national report covering incidents of Stop AAPI Hate:
Types of Discrimination
National Trends
Comparison of 2020 and 2021
Read the latest report stopaapihate.org
Teaching Resource Guide
CEETL, in partnership with the Department of Asian American Studies, has prepared this teaching resource guide to support you in your teaching.  
Please note: This teaching guide is available as a living document and we encourage all community members to continually contribute new resources by contacting us. This webpage will be updated on an ongoing basis to reflect newly curated resources, and categories will be expanded/revised as needed. 
Solidarity & Inclusivity: Intracultural and Intersectional Solidarity
Educational Resources
History of Anti-Asian Racism (Past to Present)

#StopAsianHate #StopAAPIHate
De-Stigmatize Mental Health
Asian and AAPI Allyship - Activism and Advocacy
Raise Awareness and Increase Visibility
Support Asian and AAPI Communities